About Our Group
Our Mission at Mark G. McNelis & Associates is to provide "Knowledgeable, Responsive, Personal, Friendly Service."  We pride ourselves in our ability to develop long term relationships with our clients.  Because of these relationships,  we can anticipate our client's needs and opportunities – often well before they realize it themselves.  We like to be hands on, proactive and listen closely to clients and potential clients, to determine best how to service them.  We go the extra mile to provide a quality service, and we will never push or try to move a client in a direction they do not wish to go.  This approach make us the quality firm we are today.
In addition we make our dealings as friendly and personal as possible. Many of our clients have been with our firm for over 10 years. We pride ourselves on relationships with clients. We truly believe in our motto: KNOWLEDGEABLE, RESPONSIVE, PERSONAL, FRIENDLY SERVICE.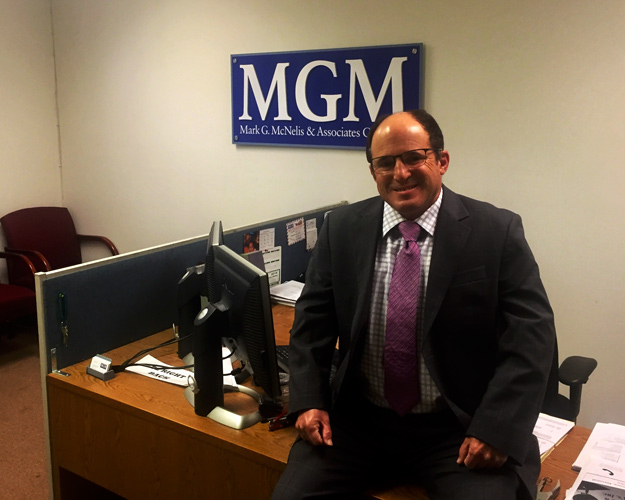 CEO – CPA
Mark has over 25 years experience in public accounting with an emphasis on taxation. He has both a Masters in Taxation and a Masters in Business Administration. His career started with Coopers & Lyband back in the days of the Big 8 He is skilled in tax preparation, tax planning and in IRS audit representation. Mark, during his spare time has been involved with many youth sports programs, including involvement with booster clubs at local high schools. He is also currently the Treasurer of the Montrose Verdugo Chamber of Commerce. To keep up with all of the changes in tax and accounting laws, he takes many seminars and does lots of professional reading. He is constantly alert for situations that could possible impact his clients.
Office Manager and Accountant – Diondra has over 10 years experience as an administrative assistant and 6 years preparing individual and business tax returns, tax issue resolution, and managing in the ins and outs of Quickbooks. We are thrilled to have Diondra as a part of our team, as her attention to detail is bar none!
CPA/ Manager – Elizabeth Henson is a Certified Public Accountant with over 30 years of extensive experience in providing a wide range of accounting services to businesses and individual clients. She graduated from Loyola Marymount University in 1982 with a B.S. in Accounting. She began her career as an IRS Revenue Agent and then an auditor for the Defense Contract Audit Agency.
In 1989 Elizabeth started her independent public accounting practice serving the accounting and tax needs of individuals, small businesses, and non-profit organizations. She is a caring accounting professional skilled at providing a comprehensive array of services to meet the needs of her clients.
In her free time, she enjoys spending time with her family and friends. She can be found on the beach reading a good book while eating French fries.
CPA – Cecilia has over 20 years experience in public accounting with an emphasis on taxation.  She has a master in taxation.  She enjoys being able to apply her knowledge in helping clients, business and individuals to keep up with the ever changing economy in her daily life.
Administration – Allie came onto our team as a part-time administrative assistant.  With years of experience as a legal secretary as well as data entry, customer service, and other clerical duties, Allie is able to keep all client records in order and provide assistance to anyone on the team.  Also, as a new mom to her baby boy Jackson, Allie is able to balance her work-life schedule thanks to Mr. McNelis.